Disclaimer: In this article we will call all blocks or bricks Legos. The name Lego is a world wide recognized name. Compatible with Lego means their building blocks will (usually) perfectly with with the official Lego blocks and can be mixed. These bricks are usually produced in China and do not have the official Lego markings (the Lego logo on top of the nops). These bricks often are way cheaper than the official Lego's with almost the same quality. The two best Chinese manufacturers currently are Lepin en Decool. Together they offer hundreds of Lego sets for very affordable prices. But AliExpress does not sell official Lego.
For all Lego lovers, AliExpress is one of the best places to buy cheap Lego bricks (without the marking). There are thousands of offers with both full sets as well as separate bricks. AliExpress is like a big toy store with unbelievable prices, way cheaper than the official stores. And… often shipment is free and quick.
LEGO bricks on AliExpress
If you're already familiar with AliExpress you might know a thing or two about the quality of Chinese products. Chinese products often appear like the original product but the quality is often not equal. However, there are manufacturers that make similar, or even better, quality products. Fortunately, this latter group is getting larger. This also is true for LEGO bricks on AliExpress. There are many compatible building blocks manufacturers, some (very) good and others worse. We therefore advise you to look at Lepin or Decool building sets as they are high quality from our experiences and from enthusiastic Lego users around the Internet.
To be sure that the seller is trustworthy always check the reputation on AliExpress. If the seller has sold a lot of products, has a high reputation score and good reviews, you can trust them.
Pay attention that Lego bricks and sets are often NOT send with the box. The seller will pack them in a envelope or plastic bags and ship them in a carton box. This saves shipping costs and also helps to get the boxes quicker through customs. Some sellers do offer the possibility to send the Legos in their box for a higher fee (often around 25% more expensive).
This can also apply to the manuals. Not all sellers will send a paper manual and will often send you a digital version. Please read the advertisement text careful or ask the seller. The digital manual sometime lack heavily in quality. However you can always check the official Lego site as they have high quality digital manuals of all their sets available online.
How to find Lego bricks on AliExpress?
Finding Lego blocks and sets is super easy, we did most of the work for you. Select 'Lepin sets' from the menu and pick a nice Lego compatible Lego set. On the set page you can click the 'Find on AliExpress' to pick a good set. Often we also provide direct links to sets for the best price/shipping method/seller reputation.
Buying bags of Lego bricks is a bit more challenging between the all the sets. These links will help you to narrow down your searches:
Try it yourself by entering some keywords in the AliExpress search box. A good start is the keyword 'Lego'.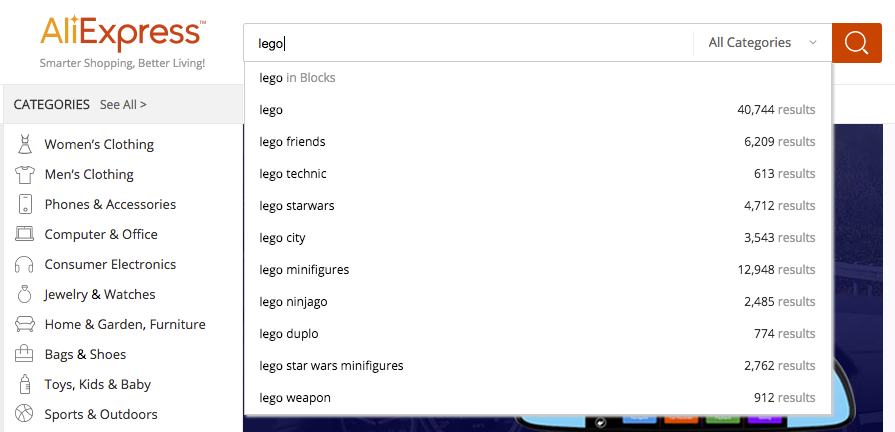 We recommend to use the AliExpress Global Site instead of your local site. The global site often seems to given better results than the local site (probably because of automated translations).
LEGO themes on AliExpress
Also for those looking for the well known LEGO theme AliExpress is the place to be. Familiar themes like Nexo Knights, Chima, Friends and Star Wars (!!!) can be found there. These are mainly made by Chinese manufacturer Lepin where as manufacturer Decool offers many Technic sets. We will link to set overview on each set and will also try to find the best offer currently on AliExpress. Click below for an overview of the popular themes.
Shipping from China
One disadvantage of buying from AliExpress is the shipping time. Depending on the the delivery method, actual shipping time can vary between 2-8 weeks. But ones your sets have arrived the fun will quickly forget the shipping time.